The Eliason Snowmobiles
Commemorative Cap & Booklet
Antique-Style direct embroidered cap
Featuring the design of Carl Eliason's 1924 Motor Toboggan.
Custom Made in the USA.
$15 each - 2/$25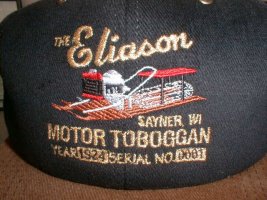 Deluxe 36 page glossy booklet complete with copies of three original sales brochures, and over 40 photographs. This booklet covers the entire 39 year history of the Eliason Motor Toboggan.
Custom printed in the USA.

$8 each - 2/$14 - 3/$18
All prices include shipping to one address anywhere in the USA.

To Order:

Send your name and mailing address along with a check, money order or credit card information to:
Eliason Co.
274 Main St.
Sayner, WI 54560
You may also phone or fax your order to:
(715) 542-3233 Voice
(715) 542-3534 FAX