| | |
| --- | --- |
| | Click On Any Picture To See Full Screen View |
---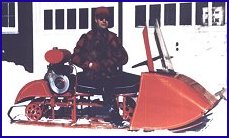 With increasing FWD truck sales and declining Motor Toboggan interest, FWD's Canadian subsidiary in Kitchener, Ontario entered the picture in 1947. Production of the model D snowmobile was transferred to the FWD plant in Canada. The move was aimed at making new engineering developments available and also to get closer to the current customer market. It was here that the revolutionary model K (Kitchener) Series was developed.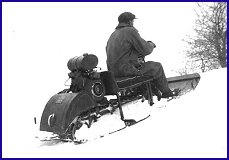 Until then, all Eliason FWD Motor Toboggans had front engines. In 1950, the smaller, all new K-10 was introduced with a rear mounted engine. Also new was the Salsbury 6 HP engine and variable speed, belt driven clutches. The rear powered unit had the engine weight placed directly over the track while the driver sat up front and steered small flipper skis via a steering wheel. Dark red in color, early K-10 machines carried a distinguished moon shaped tool box aft of the engine. A front hood and windshield were optional.
In 1953 the K-12 appeared as an improved version of the K-10. These were virtually identical except that an 8.25 HP Briggs & Stratton engine replaced the smaller Salsbury unit and a larger, squared off tool box was used, similar to the late model K-10's.

The significance of the K-12 model Motor Toboggan was two fold. First, it was the last of the Eliason Motor Toboggans in production and second, it was the snowmobile that later manufacturers would use as a guide in designing rear engine machines.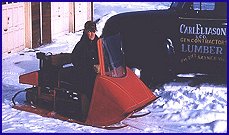 When Polaris began in 1955, the FWD Motor Toboggan patents were expiring and production of the K-12 had begun to fall. The Eliason/FWD effort continued, however, until 1963 when the company sold its parts and rights to the Carter Brothers of Waterloo, Ontario. After one year, Eliason snowmobile production ceased and the spare parts were later scrapped. The 1960 yellow Ski-Doos were already influencing and modifying the industry.
Advertisement For K-12 Model
Click On Thumbnail For Full Screen View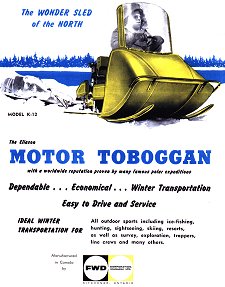 Authentic Original Brochure
Printed in 1953
Click On Thumbnail For Full Screen View
Carl Eliason & Co.,Inc. Copyright © 1997 All Rights Reserved